Use Satcharitra Sai Baba Book
Shri Sai Satcharitra epic book should be retained by all Sai devotees in the following manner:
Shri Sai Satcharitra is an epic dedicated to shri sai baba . it is holy book and be respect of it.
Obtain the book, Shri Sai Satcharitra in whatever language in which you read. Neatly wrap it up in a piece of new Red or yellow cloth, and place it near Baba photograph or idol with sanctity.
Shri Sai Satcharitra is now also available in audio or video format. You can obtain it and can be used .
Obtain the morals of Shri Sai Satcharitra and make the ways of life of spiritual .
Whether at home or elsewhere, one should always read a few pages of the book every night before going to sleep. Every devotee should try to keep Baba as the last thought before sleep.
One should read it sitting in some isolated corner in the temple or in front of Baba s statue or Photograph/painting. If other people are present, then it should be read to them or with them as well. Group reading should always be encouraged.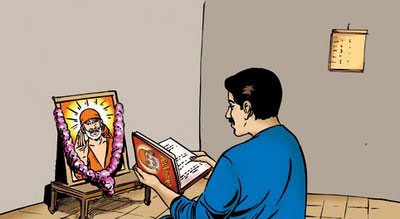 Wherever and whenever possible, it should be read continuously from sunrise to sunset in the temples on auspicious days. Devotees may be asked to read it by turn as is done in chanting the holy name i.e. Naamjap. Encourage children to read this book. Question answer competition from the "Shri Sai Satcharitra" can be organized in temples.
Shri Sai Satcharitra should be read to the devotees – sick, old aged and those nearing death as much as possible. All of them will get peace.
Shri Sai Satcharitra is a rationally priced book and is easily available at Shirdi. Therefore, any devotee visiting Shirdi must bring a few copies with him to distribute among the deserving people free of cost.