How To Reach Sai Baba Shirdi Temple
Shirdi is a well-developed town connected by bus routes. There is an important Railway Station, Kopergaon distance 15 km, though which the Karnataka Express from New Delhi to Bangalore passes. A number of trains from Bombay and Delhi also pass through Manmad station. Shirdi is only about 58 kms. from Manmad and buses and taxis are easily available to reach there.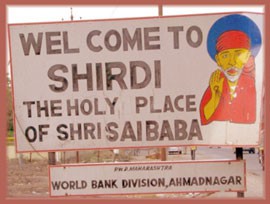 Nearest Palces
Kopergaon 15 kms
Manmad 58 kms
Distance of Shirdi from some important cities is as under:
Bombay – 266 kms
Delhi – 1166 kms.
Surat – 373 kms.
Nagpur – 618 kms.
Jalgaon – 233 kms.
Nasik – 90 kms.
Hyderabad – 610 kms.
Ahmednagar – 83 kms.
Pune – 207 kms.
Sholapur – 312 kms.
By Air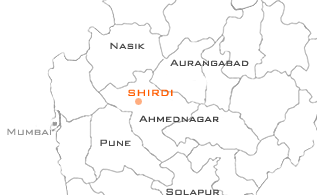 The nearest airport to Shirdi is at Nashik, 75kms away, Aurangabad is at a distance of 150kms, Mumbai is at a distance of 296kms to reach Shirdi which is connected by all the major towns of India. You can also come till Mumbai by air and travel down to 296kms to reach Shirdi. After then You can hire private taxi , Bus to shirdi
By Rail/Train
Kopergaon Junction is s an important railway station about 15kms from Shirdi. The daily Bangalore-Delhi Karnataka Express (known as the KK) stops here. Another station Manmad is also only about 58 kms. from shirdi . On reaching one of these station you easily hire private taxi or get bus for shirdi temple.
There are many ways to reach Shirdi and as a result, the Indian Railway IRCTC Portal also offers special trains for Shirdi for the devotee Sai Baba, Shirdi city is well connected by trains, roads and airways.
By Road
Shirdi can be arrived by taking a Bus from almost all major cities of Maharashtra. Long-distance buses run from many different cities, including Pune, Mumbai, Hyderabad and Vijayawada. The bus station is opposite the Sri Sainath Hospital on the main road
There are arrangements for boarding ,lodging and staying at the Shirdi Sai Sansthan but since the crowd of people on all days, especially on Thursdays is very large, find it difficult to get accommodation. Besides, there are great number of good hotels to services of Sai Baba. Although there are arrangements for selling breakfast, lunch and dinner packets at the sansthan,